Can You Get a Job After TechPro Education?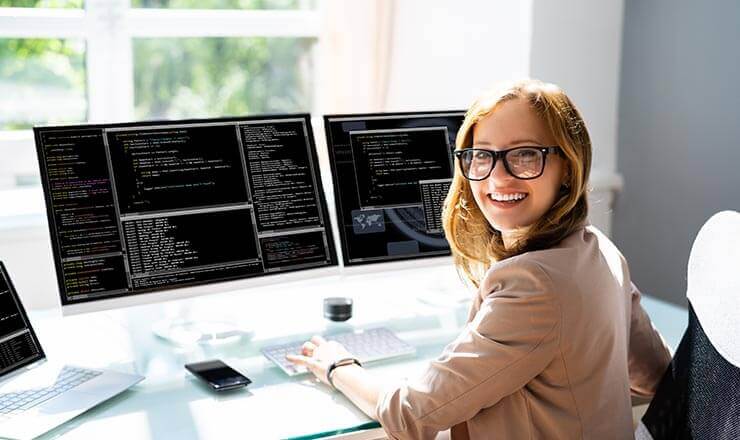 3 Ways TechPro Education Can Jumpstart Your Tech Career
The Great Resignation has seen workers quitting their jobs in search of more flexible, resilient, and well-paying jobs. For this reason, tech careers have become a popular choice. But while the idea of jumping ship has become prevalent, it's harder to execute especially if you're in your 30s or older.
For one, midlife career change often requires a strong base of support and confidence boost. This is even more important among career switchers who need to maintain a balance between their studies, work, and family life.
Below we list the ways TechPro Education addresses the main concerns of adult learners breaking into tech.
Provides Strong Support System
Adult learners need a more robust support system when reskilling. At TechPro Education, students receive career coaching from the beginning to the end of their course through a student mentor. Alumni mentors then take up the mentorship role after the end of a student's training until the student receives a job offer.
Besides mentorship, TechPro Education also promotes a culture of peer-to-peer support. Students can connect and communicate with one another through the bootcamp's online community in Slack and WhatsApp. Their conversations may range from working in pairs or teams to complete projects and assignments to sharing the challenges they face and tips to overcome them.
Offers Comprehensive Career Support
After completing their tech training, many career switchers struggle with finding their place in a new field. TechPro Education provides its students and alumni with career coaching to assist them in determining their career goal, the skills they'll need, and how to get there. Besides direct assistance from career coaches, TechPro Education offers students following career services:
- Soft skills development
- LinkedIn awareness sessions
- Job interview prep
- Certification exams prep
- Regular meet-ups with alumni
Makes Education Accessible for Everyone
Adult learners often wear multiple hats. Depending on their circumstances, they might be parents or full-time workers. Their varied responsibilities may mean limited time and financial resources. Understanding their need for balance, TechPro Education has designed short-term courses with fully virtual classes.
To help career switchers overcome financial barriers, TechPro offers free online IT courses, special discounts for women, and referral programs for students.
Is TechPro Education Worth It?
According to TechPro Education's outcomes, the bootcamp has helped over 100 alumni get hired, and that's just during the fourth quarter of 2021. Overall, over 2,000 alumni are said to have benefited from TechPro Education, landing jobs as Scrum masters, project managers, team managers, supervisors, team leads, and test leads.
TechPro alum Johnson Faraguna shared his experience with the job search, the challenges he faced, and how TechPro Education helped him find his dream job.
Johnson's Story
Prior to the bootcamp, Johnson worked as an English teacher for 12 years and had zero background in information technology. Nevertheless, that didn't stop him from wanting to restart his career in tech.
"My career development in my field was not what I wanted, the salary I received was insufficient, and the interest I had in computer technologies for a long time was the biggest factor in my transition to data science," says Johnson.
As an adult learner, Johnson didn't want to go back to the university to reskill. So, he decided to enroll at a bootcamp instead. He had several friends who graduated from TechPro Education, all of whom, he said, found high-paying jobs within a short time. Wanting to follow in their footsteps, Johnson enrolled in TechPro Education's Data Science course.
Aside from technical training, Johnson also received assistance from TechPro Education in navigating the job market. "The career coaches at TechPro were very helpful to me," he shares. "They reviewed the resume that I prepared and gave me advice and suggestions. They provided support on how I could use my LinkedIn page more effectively, and I participated in weekly presentations on soft skills. They also provided training on finding jobs on LinkedIn, Indeed, and Glassdoor."
And it all paid off.
Shortly after graduating from TechPro Education, Johnson found his first tech job. "I sincerely believe that making a career change was the right decision for me. I feel happier in the IT field. I wish I had made this decision earlier, and I wish I had met TechPro earlier," Johnson concludes.
Switch Careers with More Ease
Changing careers may seem frightening when you have various commitments to juggle. Luckily, bootcamps, like TechPro Education, offer more flexible and accessible education for aspiring tech people.
Want to learn more about the bootcamp? Browse TechPro Education's courses and start your training today.